Well the plan for the new ride is just getting started. I have the frame, forks, headset and all the tools but now I need the parts!
The idea is to go back to basics with the Scandal but with a modern twist.
It's going to have a 29" wheelset along with rigid carbon fibre forks and singlespeed gearing. The idea is to make the bike as light and strong as possible so that it'll be a dream to ride and perfect for some epic trails.
The frame colour is British Racing Green, so i'm planning on using gold Hope parts (such as hubs, brakes, headset, skewers and seatclam) to really make it stand out.
Here is the frame -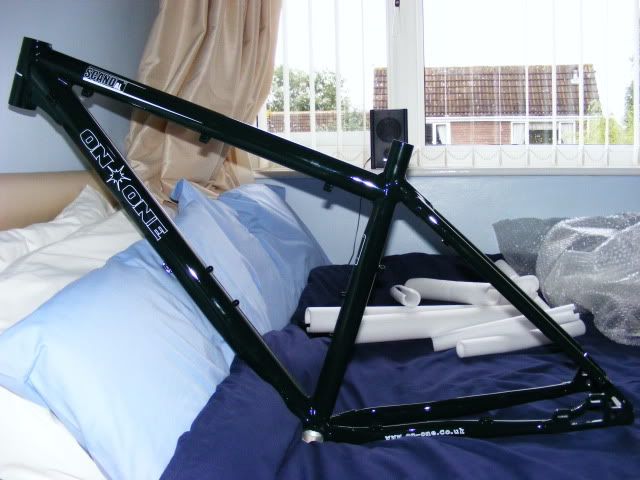 The carbon forks -
The gold headset ligned up in the frame -
The final spec should be something along the lines of -
On One Scandal 29er Frame (British Racing Green)
On One Carbon Forks
Controltech House Carbon Bars
Thompson Elite Stem
Thompson Masterpiece Seatpost
Gold Hope Headset
Gold Hope Pro 2 Singlesped Hubs built onto No-Tubes ZTR 355 rims
Middleburn RS7 Uno Crankset
Gold (limited edition) Hope Tech X2 brakset
17/18/19T Surly Cog on Hope Pro 2 SS Specific Hub
Gold Hope Finishing Kit
I can't wait!!!